Sale!
Divine Harmony Shanku Chakra Rangoli Stencils Set with 6 Colors
₹2,299
Whether it's Diwali, Navratri, or any special occasion, our Shankhu Chakra Rangoli Set adds a touch of sacred elegance to your festivities. These rangolis serve as a visual blessing, inviting positivity and prosperity into your home.
Description
Divine Harmony Shanku Chakra Rangoli Stencils Set with 6 Colors
Introducing our exquisite Shanku Chakra Rangoli Set, a harmonious fusion of tradition and artistry. This set features three distinct rangolis, each a testament to the rich cultural heritage of India. The Shanku, symbolizing purity and auspiciousness, the Chakra, representing cosmic energy, and the Jagannath Tilak, a tribute to the revered deity.
Crafted with precision, each rangoli design is a work of art in itself. The Shanku, with its graceful spirals, invokes a sense of serenity and balance. The Chakra radiates energy and vitality, while the Jagannath Tilak pays homage to a beloved deity. Together, they form a tapestry of tradition and spirituality.
To enhance your rangoli-making experience, we've included a complimentary set of six vibrant colors. These high-quality pigments ensure that your rangoli designs come to life with vivid brilliance. Whether you're a seasoned artist or a beginner, this set provides everything you need to create stunning rangolis.
Additional information
| | |
| --- | --- |
| Weight | 0.790 kg |
| Dimensions | 30 × 30 × 3 cm |
| HSN Code | 44111300 |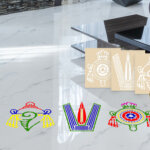 Divine Harmony Shanku Chakra Rangoli Stencils Set with 6 Colors
Your review
* Review is required
Email
* Email is required
Add photos or video to your review