Sale!
7 Chakra Wall Art : Perfect for Home Decor and Meditation Spaces
₹2,999
Enhance your living space with our exquisite 7 Chakra Wall Art. Infuse positive energy into your home with this meticulously crafted large wall decor that represents The Seven Chakras In Human Body, designed to elevate your surroundings.
Description
7 Chakra Wall Art: Perfect for Home Decor and Meditation Spaces
What are the 7 Chakras :
The 7 chakras represent the vital 7 energy centers within the human body, each corresponding to specific physical, emotional, and spiritual aspects. Starting from the base of the spine and extending to the crown of the head, these all chakras in body form a complex interconnected system. Understanding the significance of these different chakras in human body is integral to comprehending the flow of energy within the body, achieving balance, and fostering holistic well-being. They symbolize the harmonious alignment of the body, mind, and spirit, offering a pathway to self-awareness, emotional stability, and spiritual growth.
Experience the perfect blend of spirituality and aesthetic appeal with our stunning 7 Chakra Wall Hanging Decor representing all chakras in the body. All seven chakras in human body are beautifully depicted in this intricate piece, creating a focal point that radiates positive vibes throughout your space. Whether you're a seasoned yogi or simply someone who appreciates the significance of spiritual balance, this 7 Chakra Wall Design is a big wall decor which is the perfect addition to your home or studio. Immerse yourself in the calming presence of the seven chakras and let their positive energy flow through your space with this unique wall art.
Enhance your meditation practice or simply enjoy the aesthetic appeal and positive aura this wood wall decor piece brings to your everyday life. Embrace the holistic charm of our 7 Chakra Large Wall Art and let it serve as a constant reminder to nurture your spiritual well-being. With this seven chakras wall hanging Transform your living space into a sanctuary of peace and harmony, where positive energies flow effortlessly, and aesthetic appeal meets spiritual resonance. Discover the perfect blend of tranquility and style with our 7 Chakra Wood Wall Art today!
Additional information
| | |
| --- | --- |
| Weight | 0.200 kg |
| Dimensions | 20.32 × 17.8 × 2.5 cm |
| HSN Code | 44111200 |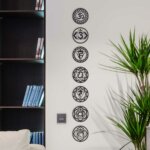 7 Chakra Wall Art : Perfect for Home Decor and Meditation Spaces
Your review
* Review is required
Email
* Email is required
Add photos or video to your review
Related products
Sale!

₹

1,690

Rated 5.00 out of 5

Sale!

₹

1,999

Rated 5.00 out of 5

Sale!

₹

999

Rated 4.00 out of 5