Sale!
Customizable Premium Wooden Coaster Set of 4 With Company Logo
₹1,380
Enhance your tea time with our exquisite Premium Wooden Tea Coaster Set. Each wooden coaster is meticulously handcrafted to perfection, making it a perfect addition to your home decor. Protect your surfaces while adding a touch of elegance with these beautifully designed tea coasters and coasters for glasses.
The Size will be 8x8cm. 
Description
Customizable Premium Wooden Coaster Set of 4 With Company Logo
Introducing our Customized Wooden Tea Coaster Set, a must-have accessory for every tea lover and art enthusiast. Crafted with utmost care and attention to detail, these wooden coaster are a blend of functionality and aesthetics. Made from premium-quality wood, they offer a durable and reliable solution to protect your furniture from unwanted stains and scratches.
Each coaster in the set features a smooth, polished surface that adds a touch of elegance to your table setting. The natural wood grain enhances the beauty of these coasters, making them a delightful addition to any home decor style. Whether you prefer a modern, minimalist look or a more traditional ambiance, these wooden coasters for glasses effortlessly blend in with any setting.
Our coaster set includes 4 wooden coasters, each measuring 8×8 cm. The set comes with a convenient holder, ensuring that your coasters are neatly organized and easily accessible. Whether you're hosting a tea party or simply enjoying a quiet cup of tea alone, or wooden coasters for painting , our coaster set adds a touch of sophistication to your experience.
Invest in the beauty and functionality of our Premium Wooden Tea Coasters Set. Perfect for personal use or as a thoughtful gift, these coasters combine practicality, elegance, and artistic potential. Experience the joy of sipping tea while protecting your surfaces in style with our handcrafted wood coaster.
Additional information
| | |
| --- | --- |
| Weight | 0.25 kg |
| Dimensions | 18.5 × 13.5 × 4 cm |
| HSN Code | 440349 |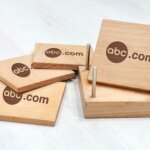 Customizable Premium Wooden Coaster Set of 4 With Company Logo
Your review
* Review is required
Email
* Email is required
Add photos or video to your review