Sale!
DIY Flower Rangoli – Border Rangoli Stencil with Diya
₹599
These Rangoli Stencils are perfect for the festival season. They are perfect for diwali and other festivals. Made from MDF, these stencils are laser cut. Order these stencils online and get them delivered right to your doorstep.
Description
DIY Flower Rangoli
Don?t you just love the festival of colours and just can?t get enough of the stunning rangoli patterns that our grandmothers and mothers make? But the problem is that you are a lazy and can never be bothered to steal some time from work to draw those intricate designs? What if we told you that you can get the same high quality rangoli patterns that are made by professional stencil makers but with a lot less effort? That?s right, we are talking about Rangoli Stencils, laser made rangoli stencils that are high quality and will last you the lifetime! Available in different designs, free colors, free diya, these stencils are the best thing to ever have happened to the festival of colours. Rangoli stencils are laser cut from MDF. It is a best product for diwali and other festival. Available in different designs and sizes. It contains free colors, free diya to help you make rangoli. Also, it is best for outdoor and indoor. Rangoli stencils are best product for diwali and other festival.
One of the most unique and vibrant ways to decorate your home to celebrate festivals and other special occasions, or even just to give it a festive look, is by using a Rangoli stencil. Rangoli, or Kolam, is a traditional form of art that's done using 5 or 6 basic colours, along with a few more if you choose. Available in a wide variety of designs, you'll find shapes and figures such as flowers, peacocks and others. Rangolis can be used indoors and outdoors and to create beautiful wall murals as well. This Rangoli Stencils is made from MDF board and laser cut with high precision. The valuable craftsmanship and beautiful patterns are hand painted using acrylics. The product is best for decoraci?n purposes like Diwali, Holi festival and other occasions like wedding, house warming, party etc. Available in various designs and specifications, these Rangoli patterns are best for indoor and outdoor decoration and are available in free diya.
Additional information
| | |
| --- | --- |
| Weight | 0.25 kg |
| Dimensions | 20 × 20 × 0.5 cm |
| HSN Code | 44111200 |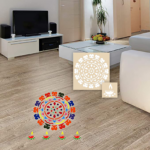 DIY Flower Rangoli - Border Rangoli Stencil with Diya
Your review
* Review is required
Email
* Email is required
Add photos or video to your review