Sale!
Butterfly Wooden Diya Stand For Diwali With Tealight Candles
₹1,199
Butterfly Wooden Diya Stand (SET OF 5) is Perfect for adding warmth and radiance to your festive decor, this intricately designed Butterfly Wooden Diya Stand For Diwali With Tealight Candles elevates the beauty of your Diyas or candles. Crafted with premium MDF, it's durable and enhances the ambiance of your home. Ideal for gifting during the festive season!
Description
Butterfly Wooden Diya Stand For Diwali With Tealight Candles
Enhance the allure of your Diwali festivities with our exquisite Butterfly Wooden Diya Stand Decoration, a quintessential addition to your festive decor collection. This beautifully crafted Diwali Diya Stand combines elegance and functionality, allowing you to elegantly display your Diyas or candles, infusing your space with a warm, inviting glow. Our Wooden Diya Holder is meticulously fashioned from Premium-Quality MDF, ensuring longevity and sturdiness. Its intricate design captures the essence of traditional Indian craftsmanship, making it a captivating centerpiece for your Diwali celebrations.
The versatility of this diwali candle holder allows you to use it not only for Diwali but also for various other auspicious occasions throughout the year. Whether adorning your living room, prayer room, or any other space, this Wooden Tealight Holder serves as an enchanting symbol of traditional Indian festivities. Crafted to blend seamlessly with any home decor, this Diya Stand for home makes for an ideal gift for your loved ones during the festival season.
Add a touch of tradition and elegance to your festive decor with our MDF Diya Holder. Illuminate your home and hearts with the timeless charm of this essential Decorative Diya holder for Diwali. Purchase this Diya holder stand now to create an enchanting ambiance that celebrates the spirit of togetherness and joyous festivities. Crafted with utmost precision, our Candle Holders for Diwali provides a secure and stylish platform for displaying your Diyas and candles. Its sturdy construction ensures the safety of your lit candles while adding an enchanting glow to your surroundings.
Additional information
| | |
| --- | --- |
| Weight | 200 kg |
| Dimensions | 18 × 14 × 4 cm |
| HSN Code | 44111200 |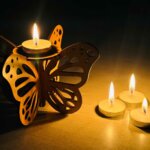 Butterfly Wooden Diya Stand For Diwali With Tealight Candles
Your review
* Review is required
Email
* Email is required
Add photos or video to your review
Related products
Sale!

₹

3,900

Rated 4.60 out of 5