Sale!
DIY Flower Rangoli with Diya – Wooden Rangoli Stencils
₹599
These Rangoli Stencils are perfect for the festival season. They are perfect for diwali and other festivals. Made from MDF, these stencils are laser cut. Order these stencils online and get them delivered right to your doorstep.
Description
DIY Flower Rangoli with Diya
Don?t you just love the festival of colours and just can?t get enough of the stunning rangoli patterns that our grandmothers and mothers make? But the problem is that you are a lazy and can never be bothered to steal some time from work to draw those intricate designs? What if we told you that you can get the same high quality rangoli patterns that are made by professional stencil makers but with a lot less effort? That?s right, we are talking about Rangoli Stencils, laser made rangoli stencils that are high quality and will last you the lifetime!
Available in different designs, free colors, free diya, these stencils are the best thing to ever have happened to the festival of colours. Rangoli stencils are laser cut from MDF. It is a best product for diwali and other festival. Available in different designs and sizes. It contains free colors, free diya to help you make rangoli. Also, it is best for outdoor and indoor. Rangoli stencils are best product for diwali and other festival.
The Rangoli is an art form originated in ancient India and later introduced to the neighboring countries of Nepal, Tibet, China and Japan. The word rangoli is derived from the Sanskrit word rangavastra, which means "color cloth" and is also known as chandalika. In Tamil and Malayalam, the word for rangoli is kolam and in Kannada it is called bomma murige.
The rangoli was traditionally drawn in front of the house in rural areas, as a welcome for the Good Fortune. The Rangoli is traditionally made by the women of the household and is usually drawn at the entrance of the house. In modern times, rangolis are made in elaborate form by using powder, oil and or water colors with chalk powder and rice powder as substrates.
Additional information
| | |
| --- | --- |
| Weight | 0.25 kg |
| Dimensions | 20 × 20 × 0.3 cm |
| HSN Code | 44111200 |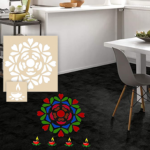 DIY Flower Rangoli with Diya - Wooden Rangoli Stencils
Your review
* Review is required
Email
* Email is required
Add photos or video to your review