Sale!
DIY Rangoli Stencils for Floor- Wooden Stencil with Diya
₹1,550
These Rangoli Stencils are perfect for the festival season. They are perfect for Diwali and other festivals. Made from MDF, these stencils are laser cut. Order these stencils online and get them delivered right to your doorstep.
Description
DIY Rangoli Stencils for Floor
The Rangoli is an art form originated in ancient India and later introduced to the neighboring countries of Nepal, Tibet, China and Japan. The word rangoli is derived from the Sanskrit word rangavastra, which means "color cloth" and is also known as chandalika. In Tamil and Malayalam, the word for rangoli is kolam and in Kannada it is called bomma murige. The rangoli was traditionally drawn in front of the house in rural areas, as a welcome for the Good Fortune. The Rangoli is traditionally made by the women of the household and is usually drawn at the entrance of the house. In modern times, rangolis are made in elaborate form by using powder, oil and or water colors with chalk powder and rice powder as substrates.
One of the most unique and vibrant ways to decorate your home to celebrate festivals and other special occasions, or even just to give it a festive look, is by using a Rangoli stencil. Rangoli, or Kolam, is a traditional form of art that's done using 5 or 6 basic colours, along with a few more if you choose. Available in a wide variety of designs, you'll find shapes and figures such as flowers, peacocks and others. Rangolis can be used indoors and outdoors and to create beautiful wall murals as well. This Rangoli Stencils is made from MDF board and laser cut with high precision. The valuable craftsmanship and beautiful patterns are hand painted using acrylics. The product is best for decoraci?n purposes like Diwali, Holi festival and other occasions like wedding, house warming, party etc. Available in various designs and specifications, these Rangoli patterns are best for indoor and outdoor decoration and are available in free diya, free colours.
Additional information
| | |
| --- | --- |
| Weight | 0.28 kg |
| Dimensions | 30 × 30 × 0.3 cm |
| HSN Code | 44111200 |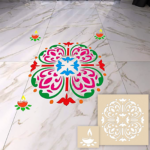 DIY Rangoli Stencils for Floor- Wooden Stencil with Diya
Your review
* Review is required
Email
* Email is required
Add photos or video to your review