RadhaKrishna Rangoli with Floral Stencil Combo with 6 Colors
Rangoli stencils are made from MDF, laser cut and best for diwali and other festival. Available in different designs. Free colors, Free diya. Best for outdoor and indoor.
Description
RadhaKrishna Rangoli
One of the most unique and vibrant ways to decorate your home to celebrate festivals and other special occasions, or even just to give it a festive look, is by using a Rangoli stencil. Rangoli, or Kolam, is a traditional form of art that's done using 5 or 6 basic colours, along with a few more if you choose. Available in a wide variety of designs, you'll find shapes and figures such as flowers, peacocks and others. Rangolis can be used indoors and outdoors and to create beautiful wall murals as well.
This Rangoli Stencils is made from MDF board and laser cut with high precision. The valuable craftsmanship and beautiful patterns are hand painted using acrylics. The product is best for decoraci?n purposes like Diwali, Holi festival and other occasions like wedding, house warming, party etc. Available in various designs and specifications, these Rangoli patterns are best for indoor and outdoor decoration and are available in free diya, free colours.
Rangoli is a traditional colourful Indian folk art where lines and dots are used to create elaborate patterns and designs, made on the floor of every home, especially during the festival of lights, Diwali. These Rangoli stencils are made from MDF, laser cut, are easily kept clean, are free of lead, free of formaldehyde and free of toxic materials, making them completely safe for work with children and adults alike! These designs are best for diwali and other festival and especially for outdoor, you can use these stencils in your garden, patio, balcony, terrace.
Additional information
| | |
| --- | --- |
| Weight | 0.98 kg |
| Dimensions | 31 × 31 × 3 cm |
| HSN Code | 44111200 |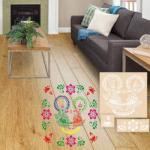 RadhaKrishna Rangoli with Floral Stencil Combo with 6 Colors
Your review
* Review is required
Email
* Email is required
Add photos or video to your review