Sale!
Swami Samarth Rangoli Stencil For Floor With 6 Rangoli Colours
₹790
Celebrate Diwali with our exquisite Swami Samarth Rangoli Stencil, designed to add traditional charm to your home decor. Craft beautiful rangoli designs effortlessly using this wooden floor stencil. Elevate your festive decorations with the divine touch of Shri Swami Samarth Maharaj.
The size of this Rangoli is 30 x 30 cm.
Description
Swami Samarth Rangoli Stencil For Floor With 6 Rangoli Colours
Elevate your Diwali celebrations with the intricate beauty of our Shree Swami Samarth Rangoli Stencils. Crafted with precision and love, this wooden rangoli stencil is a perfect addition to your festive decor collection. Our Shri Swami Samarth Maharaj-inspired rangoli stencils for floor are perfect for adding a divine touch to your festive decor.
With intricate details and durable materials, they are not just rangoli making stencils, they are pieces of art designed to last for years. Whether you're a seasoned rangoli artist or a beginner, our rangoli moulds make it easy to craft intricate patterns and designs that will leave everyone in awe. We have a collection of rangoli stencils. Available in various sizes, including big rangoli stencils and wooden rangoli cutouts, our range caters to all your creative needs.
Additionally, we offer rangoli stencils with colours, making your Diwali preparations even more convenient. Don't miss the opportunity to showcase your artistic skills and pay homage to Shree Swami Samarth by making rangoli using stencils. From rangoli kits to rangoli kolam stencils or simple rangoli designs stencils we have various stencil of rangoli that you need to create a mesmerizing floor art masterpiece. Celebrate Diwali in style, get our rangoli stencils online today, and make your festival of lights truly special.
Additional information
| | |
| --- | --- |
| Weight | 0.400 kg |
| Dimensions | 30 × 30 × 3 cm |
| HSN Code | 44111200 |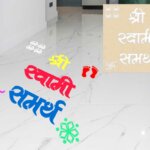 Swami Samarth Rangoli Stencil For Floor With 6 Rangoli Colours
Your review
* Review is required
Email
* Email is required
Add photos or video to your review